The novel COVID-19 is terrifying the world. New cases are popping up across the globe and deaths are mounting. Jamaica confirmed its first case March 10th. As the country tries to contain the spread of the virus it is clear that panicking is not useful.
Countries and individuals must now make sure they are prepared for any eventuality. We've put together some suggestions from governmental and medical recommendations to help you stay safe and keep life and work as close to normal as possible.
Home life
Do NOT panic buy! You may be worried about Coronavirus, but we appeal to you, do not go to the shops and buy large quantities of toilet paper, soap, baked beans or other unnecessary products. It may make you feel momentarily secure, but it is putting others at risk.
Limited stock drives up prices and takes essential goods out of the hands of people who need them most (such as face masks for health workers). Dramatic events do not always need dramatic responses. The soundest advice at the moment is to wash your hands regularly.
Watch what you do. Washing your hands, coughing hygienically and touching your face less can all stop the spread of the Coronavirus. If you can, avoid areas where individuals are likely to be sick.
Get reliable news. Always check your sources. Social media has been spreading rumours that Coronavirus can be stopped through drinking water, avoiding ice cream and washing your clothes regularly. None of the above has any scientific basis and are unlikely to benefit you.

Work life
Get tested, if someone in your office has been diagnosed with Coronavirus. Encourage others to do the same. This would confirm if anyone else has been exposed and caught the virus, but it may not be possible if hospitals and medical services are already under pressure.
Self-isolate, and monitor your condition if you believe you have it and can't get help. Coronavirus symptoms include respiratory problems, fever, cough, shortness of breath and breathing difficulties.  If you show signs of any of these then it is best to seek medical attention, limiting your contact with anyone else. This is important because in severe cases your illness can escalate to infection and damage other organs.
Use technology to remain productive. Video/conference calling and instant messaging platforms like Slack or Microsoft Teams can be invaluable for staff to continue working collaboratively. Slack offers file-sharing, video calls and an opportunity to reduce those long email chains. When you're working from home it's important to stay up-to-date.
Work management systems like Trello can also ensure deadlines are met and workflows can be seen even when you and your colleagues are in physically different places. You can add priority tags and checklists for other staff members to see how far you've progressed on certain tasks. Unlike the office setting, remote working requires regular check-ins and updates to the virtual shared workspace to ensure productivity is kept high.
Your best bet in this crisis is to follow what Jamaica's Ministry of Health (MOH) advises, or go to the WHO (World Health Organization) website for solid information. WHO produced a video on the COVID-19 on methods for detecting, prevention, response and control. Watch now.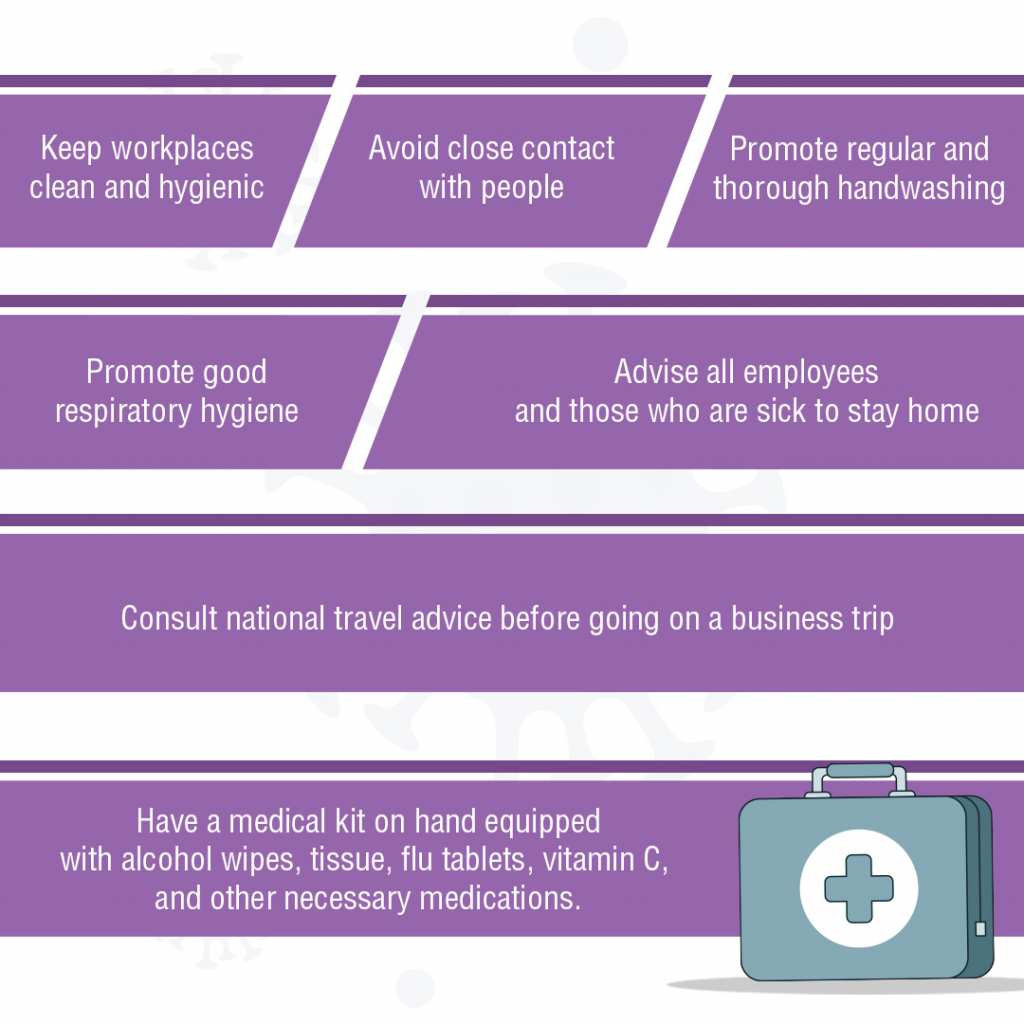 Should you or family members need to contact local health authorities, use these contacts from the MOH:
-    Land line - Mon to Fri 8: 30 to 4: 00 pm (#754- 4482; #926-1550-2 Ext 242 )
-   After usual working hours: Dr. Kimberley Myer #317-9707, Dr. Stephan Figueroa #549 -5228, Dr. Audre Mcintosh #317- 9563
-   Ministry of Health and Wellness: #(888) 663-5683
Further information is also available as per the attached guideline published by the Ministry of Health and online from the World Health Organisation at the link below:
https://www.who.int/emergencies/diseases/novel-coronavirus-2019/advice-for-public 
While questions still remain around Coronavirus, it is important to remain calm and consider what action is right for you, your family and your community. Those most at risk have been considered to be the elderly or those with underlying health problems. If you're in these groups please seek advice from a medical professional and educate yourself on it as much as possible.